Billiards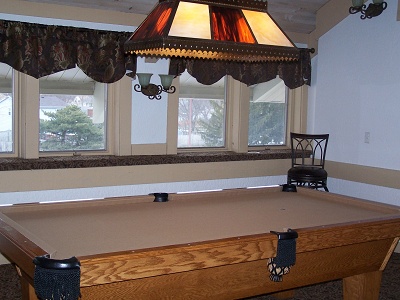 There are two Olhausen tabels - the Best in Billiards.
Bring along your own cue if you like.

1. Reservations to play pool may be made 24 hours in advance for one hour at a time by calling 486-1967.
2. Tags must be shown to play pool.
3. Guests must pay a guest fee of $1.00 per hour.
4. No food, beverages or cigarettes allowed in pool table lounge area.
5. No stereo equipment allowed in lounge area.
6. Must be 14 years of age. Monday thru Friday must have parental written consent to play from 10:00 a.m. to 3:00 p.m.
7. Pool balls & cue must be checked in and out after each game.
8. Limit of four people per table allowed. Upper lobby limited to players only.
Important Information
Location: ARLINGTON CLUBHOUSE
Hours: 10:00 a.m. to 9:00 p.m. Mon-thru Sat
Opens: ALL YEAR
Phone: 486-1967
Costs: Members free, Guests $1.00 per hr./ pr guest